Truck Stops Providing Essential Services to Truckers, Navigating the Downturn
www.ttnews.com, Eric Miller
The employees at the Iowa 80 Truckstop have a motto that serves as reminder of their mission: "Without trucks, America stops. Without truck stops, trucks stop." As the nation continues to struggle with the COVID-19 pandemic, those words are taking on new relevance.
While drivers are facing challenges amid the crisis, so, too are the businesses that provide them respite along the nation's highways. As in most sectors of the economy, business is down. But truck stops are working to ensure drivers have the essentials they need.
At Iowa 80, the nation's largest truck stop, showers and restrooms remain open, diesel fuel flows at the pump, impact wrenches spin in the service center, 900 truck parking spaces are available, take-out food is being delivered, scales are open, and the chiropractor and the dentist are seeing patients. But truck stop employees are adjusting to a new normal as it relates to customers, while the company itself confronts a drop-off in business brought on by a steep decline in traffic.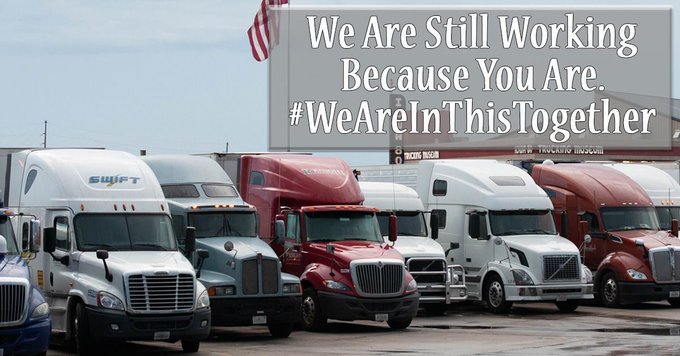 "We still see trucks, but we don't see many cars," Heather DeBaillie, vice president of marketing for I-80 Group, told Transport Topics. "We normally get about 5,000 customers a day." These days, vehicle traffic is down by more than half, she said.
She also noted that interactions with shoppers have changed. "Everything that we've always trained our employees to do, which is take the customers to it, show it to the customer, has changed," DeBaillie said. Now, she said, staffers are instructed to simply point to the items.
"Patience is probably the biggest thing we've learned," she said.
"Truck stops have been hit very hard," said Lisa Mullings, president of Natso, a trade association representing truck stop owners and operators, noting that in recent months, many have seen about a 50% decline in business. That's especially true, she said, as it relates to full-service restaurants that, in most cases, are either shutting down or doing take-out only.
"That was a big hit for our industry, just like the entire restaurant association members have been hit really hard, too," Mullings said. "Especially when you consider the time of year, because when this all started, we were in the height of spring break traffic. That pretty much stopped."
Pilot Flying J CEO Jimmy Haslam said gasoline sales at his company's facilities initially fell about 50% but are now trending down about 30%. Diesel sales are down about 15% to 17%, he added. While sales inside the stores are down about 10%, he noted that some goods — like tobacco — are showing an uptick.
Haslam said he's pleased with how his staffers have responded amid the crisis.
"I think we've learned that we can work virtually," Haslam told TT. "We're in 44 states, and we've been able to do the basic things like billable, payables, collections, close our financial books once a month. I think there are some positions that can probably work at home just as well, if not better, than they do at the support centers."
Longer-term, he also sees benefit in giving his customers more ways to access services.
"The more we can offer technology to truck drivers or trucking companies, the better off we're going to be," he said. "I think you'll see a big investment in technology to makes things more efficient."
He also believes the pandemic response has helped the company prioritize. "Rather than having 12 things going on, let's pick out four or five big ones and really focus on those," he said.
Mullings has been impressed with the willingness of members to cooperate on common goals. "We all have learned the importance of sharing information," she said. "I've been impressed by our members sharing information with their competitors on things like where to find suppliers that can provide hand sanitizer, or masks for their employees and sharing resources and information about what to do if you have a positive test for COVID-19 within one of your facilities."
At Love's Travel Stops, the company's operations have been adjusted to account for the virus, spokeswoman Caitlin Campbell said. "We have taken proactive steps to help limit exposure and spreading of the virus by changing our food and beverage options and by practicing social distancing with our customers," Campbell said, noting that the company has installed Plexiglas at all of its stores, restaurants and truck care registers. And all employees are required to wear a face covering.
"Our travel centers have always remained open for business during COVID-19," Travel Centers of America-Petro spokeswoman Tina Arundel said. She noted that in addition to carryout options at select locations, the company's convenience store foods are being packaged in a way that prioritizes customer safety.
While all of these measures are necessary, Iowa 80's DeBaillie said her staffers are trying to keep customers' spirits high with humorous messages on digital billboards. "We're trying to lighten the mood a little bit," she said. "We know it's starting to wear on people. After all, the truck stop is the place where drivers socialize."